Aizu Style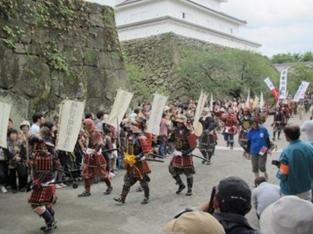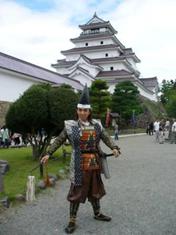 Aizu Wakamatsu is an atmospheric castle town surrounded by the magnificent nature of Mount Bandai and Lake Inawashiro and retaining vestiges of the Aizu clan.
The original model of Aizu Wakamatsu was built by Gamo Ujisato (1556-95), a prominent warlord who served Oda Nobunaga and Toyotomi Hideyoshi. The traditional industries representing Aizu that Ujisato developed by summoning merchants and craftsmen from Omi Province (present-day Hino-cho in Shiga Prefecture), such as lacquer ware and sake brewing, are still thriving around the city even now.
On the day of the annual Aizu Clan Samurai Parade, in which around 500 people dress up as samurai and parade through the city, we set our minds in historical mode and took a nostalgic stroll around Aizu Wakamatsu to enjoy the townscape of imposing warehouses built in the Edo period (1603-1868) and stylish Western-style buildings of the Taisho era (1912-26).

Elegant Castle and Graceful Teahouse
Aizu Wakamatsu is a castle town centered on Tsuruga Castle, famous as an impregnable fortress that withstood bombardment by pro-imperial forces at the time of the Boshin Civil War (1868-69). In the past and even today, Tsuruga Castle is a source of pride and psychological support for the people of Aizu.
In May of this year retiling work was completed, and all of the buildings in the castle grounds were given a uniform late-Edo look. The new contrast between the sparkling white walls and red tiles is splendid, and among the extant donjon in Japan, Tsuruga Castle's tower is the only one in the country with red tiles.
Inside the donjon there is an exhibition of armor, swords, and other items, and the history and culture of Aizu, including the successive Aizu clan daimyo and the Boshin Civil War, are introduced in an easy-to-understand manner. On the third floor visitors can put on a kimono for a commemorative photo. This attraction is popular among foreign tourists as well.
In the castle grounds there is the Rinkaku teahouse, said to have been built by Sen no Shoan (1546-1614), son of Japan's grandest tea ceremony master Sen no Rikyu (1522-91), as a token of gratitude to Ujisato. Visitors to the castle are recommended to visit this graceful structure.
About 15 minutes' walk to the east of Tsuruga Castle is the Oyakuen landscape garden, built as a villa of the Aizu Matsudaira clan and designated as a national scenic spot. The cultivation of medicinal herbs, which began in the Edo period, still takes place here today, and about 400 types are planted, including ginseng. At the garden's teahouse, called the Ochayagoten, visitors can enjoy a truly blissful moment enjoying the taste of powdered green tea while viewing the surrounding scenery.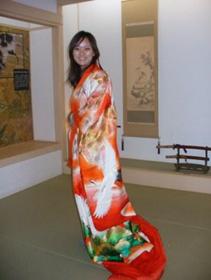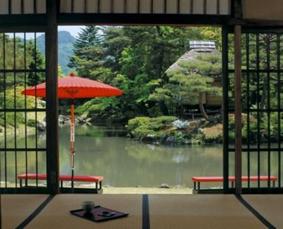 Nanuka-machi Street: The Spirit of Merchants and Craftsmen Lives On
The area along Nanuka-machi Street flourished because this was one of the main thoroughfares in Aizu and because the economic policy of "free markets and open guilds," which abolished the monopolistic privileges of guild-like trade associations, was adopted here. Even today the street is lined with historical warehouses and retro Western-style buildings.
Shops dating from the Edo period and specializing in Aizu lacquer ware and Aizu painted candles still exist. They also offer visitors the opportunity to try their hand at painting pictures, so while coming into contact with Aizu's traditional crafts, you can make an original souvenir as well---the only one of its kind in the world!
Shibukawa Tonya, near Nanuka-machi Station, prospered as a marine product wholesale store in the Meiji, Taisho, and Showa periods. Today the Taisho-era wooden building and Meiji-era warehouse serve local Aizu cuisine, such as kozuyu (a soup of taro, carrots, jew's ear, and other ingredients cooked in dried shellfish adductor muscle stock and lightly seasoned with soy sauce), as well as herring, and dried cod. The succulent Aizu Shiokawa beef is simply superb too. Visitors are recommended to get a taste of Aizu's history through its cuisine.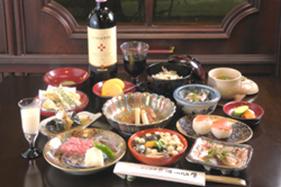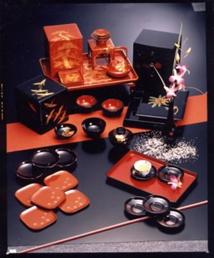 A Learned City with Many Attractive Cafes
The famous bacteriologist Hideyo Noguchi (1876-1927) became attracted by the wonders of medicine after undergoing surgery to treat a burn on his hand. Later, as a student, he studied medicine by living in at the Kaiyo Clinic in Aizu Wakamatsu. Today the second floor of this building displays materials relating to Noguchi, and many young people aspiring to follow the path of medicine visit the museum. The first floor, meanwhile, is occupied by an antique cafe called Aizu Ichibankan, which was once visited by Crown Prince Naruhito and Crown Princess Masako. So while contemplating Noguchi's life, visitors can enjoy a cup of coffee here just as the imperial couple did.
There are also cafes constructed in warehouse buildings and red-brick retro cafes dotted around the city, so visitors will have no problem finding a nice place to have a coffee break during their stroll.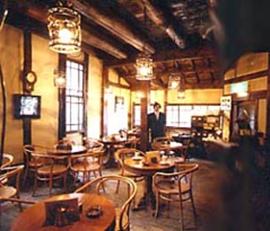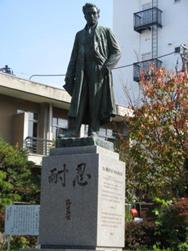 Gravesite of the Matsudaira Family Exudes Power
The gravesite of the Aizu Matsudaira clan of the Aizu domain, which was designated as a national historic site in 1987, is situated on Mount Innai, to the east of the entrance to Higashiyama Onsen hot spring. Local people call it the "Innai Mausoleum."
The entrance at the foot of the mountain is somewhat awesome, rather like a checkpoint. There is a place for washing your hands as an act of purification, giving visitors the feeling that they are about to enter a sacred place. As you climb up the densely wooded mountain path, you begin to feel a certain power in the air.
After walking for about 15 minutes, just as you are beginning to get out of breath, you come to a long and narrow open space with large stone monuments ahead of you. These monuments are built on top of large stone tortoises and are inscribed with epitaphs of Aizu clan daimyo, giving their names, achievements, histories, and other information.
The large tortoise is an imaginary animal of Chinese legend called the black tortoise that protects the spirits of the dead. In Japanese it is known as genbu. Since the black tortoise is a deity defending the northern direction, its face is always facing north. The first Aizu Matsudaira clan lord, Hoshina Masayuki (1611-72), is not buried here but at Hanitsu Shrine in Inawashiro, which lies to the north.
The genbu has piercing eyes, sharp fangs, and claws, and pointed ears. Viewed from the side, it looks ready to pounce at anytime. But seen from above, it looks as though it is prostrating itself before the lord asleep in the grave and worshipping him.
Behind and above the monument of each grave there are two stone lanterns, and behind and above them there is the omoteishi, a kind of stone marker bearing the rank, status, and so forth of the lord. Beyond the omoteishi, on top of a round burial mound, there is an octagonal shizumeishi gravestone for the repose of the daimyo's soul.
Although the grave of the second daimyo is Buddhist style, those of the third to ninth daimyo are Shinto style. Other family members and descendants are also buried here.
Visitors to the gravesite were heard to say that they felt soothed or empowered by the experience. Borrowing a phrase that has become popular recently, perhaps we can truly describe this place as a tourist "power spot."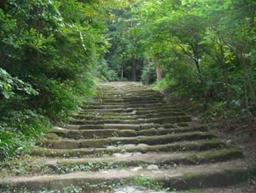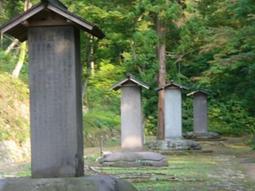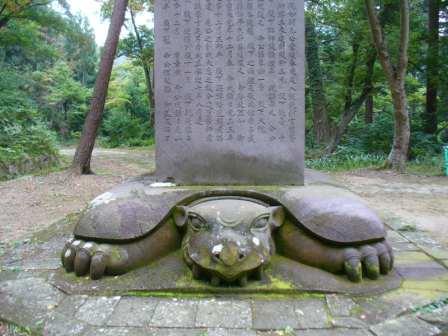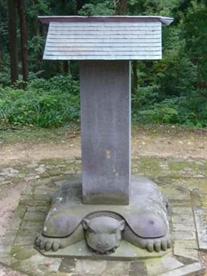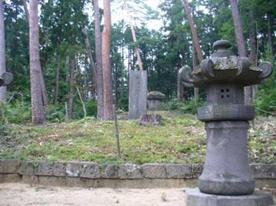 For inquiries about sightseeing, contact the Information Support Center of the Aizu Wakamatsu Tourism Association
Tel.: 0242-36-5043
http://www.city.aizuwakamatsu.fukushima.jp/e/sight/index.html (English)

Transcending the Ryokan Stereotype:
Hotel Matsushima Taikanso
Matsushima in Miyagi Prefecture, which gets a three-star rating in Michelin's Green Guide Japan, is one of the three most scenic spots in Japan. Many visitors from both Japan and overseas are attracted to the area not only by the picturesque beauty of its small islands floating in the ocean but also by the numerous historical tourist sights, including the three-star Zuiganji temple.
Hotel Matsushima Taikanso was founded in the town half a century ago. We asked the hotel's vice-president Ms. Yuko Isoda, who handles the hotel's hospitality and management, about her many trials and tribulations over the years.

In 1961, when it was founded, Taikanso was a typical Japanese-style ryokan, a wooden structure with two floors and 30 guest rooms. Today, Hotel Matsushima Taikanso is the largest hotel in Matsushima, a seven-floor ferroconcrete building with 256 guest rooms and, among other facilities, a convention hall with a capacity of 1,700 people. The high ground where the hotel is located, overlooking Matsushima Bay, is designated as a special scenic spot, so regulations are rigorous. Negotiations with the Agency for Cultural Affairs and others concerning construction were extremely complicated. Taikanso is the only hotel in Matsushima that affords a full panoramic view of the bay, and guests proclaim with admiration that "It's a splendid miniature garden!" and "It's just like the hotel's own back garden!" In particular, coupled with the wonderful French cuisine, the view from the seventh-floor restaurant, extending across the Pacific as far as the horizon, is one of the lasting memories of Matsushima that visitors take home with them.
While building up this illustrious reputation, though, Ms. Isoda insists that the reforms implemented so far are still at the development stage. "We call ourselves a hotel," she says, "but we are neither a genuine hotel nor a genuine Japanese-style ryokan. We're half ryokan, half hotel!" In order to respond sincerely to the various requirements of guests, she explains, there are many things that just cannot be done within the ryokan framework.

Rather than being bound by the typical ryokan style of "one night, two meals"---a set package of evening meal, overnight accommodation, and breakfast---Taikanso, which places importance on the perspective of users, offers a selection of meals for guests to choose from. At first, recalls Ms. Isoda, some people said that this approach was not suitable for Japanese-style Matsushima, but there were many requirements from guests that could not be met only with Japanese food. So Taikanso invited skillful chefs from famous restaurants serving Western and Chinese dishes, and now the hotel offers a wide range of excellent cuisine.
Because of business customs, Taikanso's shift to a hotel-like style of separating accommodation and meals is still only partial. But when guests make reservations, the hotel ascertains their requirements in detail and actively endeavors to propose the best plan for each individual. Furthermore, in principle the chefs operate in two shifts, so, as the separation of accommodation and meals advances, the hotel is able to meet the requirements of visitors who come only for meals.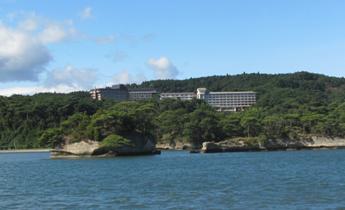 As for the guest rooms, these days Japanese travelers do not necessarily prefer purely Japanese-style rooms---even at a place that is described as one of the three most scenic spots in Japan. Therefore, 20% of Taikanso's guest rooms are completely Japanese-style, and the rest are Western-style rooms and mixed Japanese- and Western-style rooms combining the Japanese-style sense of relaxation with Western-style convenience. So today Taikanso is able to offer a variety of room types in terms of layout, size, view, and other factors.
"After we have shown guests to their rooms, we place importance on each person's private time," says Ms. Isoda. So instead of service by room waitresses, as in a typical ryokan, Taikanso accepts individual requests from guests and also assigns staff to respond swiftly and wholeheartedly to requirements in their designated areas. At the same time, since some guests might make endless demands, Taikanso takes care not to differentiate among guests by offering unlimited service. Whatever guests stay at the hotel, regardless of whether they are Japanese or foreign, they are treated with the same kind of uniform hospitality.
The buffet at Taikanso, which offers representative cuisine from around the world, is extremely popular. Unlike other places that introduced buffets in order to reduce expenses, Taikanso introduced its buffet to enable guests to enjoy various dishes diligently prepared with selected ingredients. It was a pioneering experiment in the Tohoku region. Furthermore, many guests show great interest and enjoy the performance in which a full-sized tuna unloaded in a nearby fishing port is cut and prepared in front of their eyes. (Owing to uncertain supplies, this performance was suspended when we visited.) The preparation by expert chefs of beef tongue and oysters, a local specialty, in full view of guests is also popular.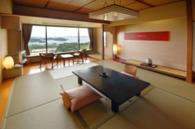 Many guests from overseas use Taikanso. The hotel is unable to attract visitors only with its geographical advantages, but its accumulation of efforts to change things one by one for guests has received plaudits both domestically and internationally. Even more foreigners have come since Taikanso established a setup to accept them, diversifying its food menu and catering to special requirements, such as vegetarian meals.
Foreign guests are no longer more difficult to handle than Japanese, but in the past, Ms. Isoda recalls, there were certainly problems. For example, foreign guests mistakenly thought that everything put before them was theirs to keep, and things like yukata (informal kimono) and Japanese tableware, which foreign guests found fascinating, would vanish.
At first Taikanso sought to attract foreigners in periods when the number of Japanese guests fell, but then a problem arose with the rooms. Foreigners tended to stay in small numbers---one or two per room, as in a hotel---so the more foreign guests came, the worse sales efficiency became. Nevertheless, the arrival of foreign guests has had the effect of energizing the workplace. As Ms. Isoda remarks, "When foreigners started coming, our employees seemed to mature. Coming into contact with foreign guests gives them the feeling of doing an international job, so our employees are happy too." Taikanso has a steadfast determination to take the lead in welcoming foreigners to one of Japan's three most scenic spots.

Ms. Isoda also serves as president of the Okami Association of Japanese Ryokan and actively travels overseas every year to promote business. Last year she visited the president and government ministers of the Maldives and held discussions with them. In addition, as chairman of the Miyagi Okami Association, Ms. Isoda brings together the okami (ryokan proprietresses) of Miyagi Prefecture and travels around the country herself to promote the attractions of Miyagi Prefecture. She also endeavors to improve the environment surrounding ryokan and hotels by attending meetings of various government committees and other bodies. Ms. Isoda engages in such activities because she is aware of local expectations of Taikanso and her hotel's heavy responsibilities and because, more than anything else, she understands the importance of gathering and exchanging information. Furthermore, she recognizes the limits to what individuals and facilities can do alone.
Ms. Isoda has constantly been ready to try new things in order to cope with the diversification of guests' needs. One wonders what her next idea will be.
Hotel Matsushima Taikanso
10-76 Inuta Matsushima, Matsushima-machi, Miyagi-gun, Miyagi Prefecture 981-0213
Tel.: 022-354-2161; fax: 022-353-3431
URL: http://www.taikanso.co.jp/eg/
There are 15 tourist spots in Matsushima that are given stars in Michelin's Green Guide Japan, and the town attracts many sightseers, both Japanese and foreign. Matsushima is conveniently located just 30?40 minutes' train ride from Sendai, the gateway to the Tohoku region, and the main tourist spots are within walking distance of Matsushima-Kaigan Station.

| | |
| --- | --- |
| | |
Matsushima is one of the three most scenic spots in Japan along with Amanohashidate in Kyoto Prefecture and Miyajima in Hiroshima Prefecture. Among its attractions, the 260 green pine-covered islands, large and small, dotted around the calm bay are representative of the area as a whole. The view of these islands from high ground is of course excellent, but in the end the best thing to do is to take a ride on an excursion boat around the bay, from where you can see the rich individual characteristics of the islands close at hand and enjoy scenery that is not visible from land. Another delight is the sight of the black-tailed gulls trailing the boat in the hope of getting some of the feed given to passengers to toss in their direction. The gulls amazingly catch the feed in midair or even dive down and deftly swoop it out of the hands of passengers.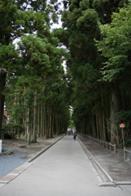 As well as scenery woven by the ocean and islands, visitors should not miss the many historical and cultural properties in Matsushima connected with the Date family and the famous samurai Date Masamune (1567-1636).
Zuiganji temple, which has an approach lined with cedar trees and caves, is a majestic building truly displaying the essence of the gorgeous Azuchi-Momoyama period (1568-1600), when decorative culture of high artistic value flourished. Visitors will be awed by the elaborate openwork transoms and splendid paintings on the fusuma sliding doors and tokonoma alcoves.
Entsuin temple, which houses a colorful zushi (miniature shrine), is a tranquil place with a carefully looked-after moss garden, stone garden, and rose garden.
The Godaido is a Buddhist worship hall enshrining the Godaimyo, or "five wisdom kings," which are unveiled every 33 years. It is said that the sight of the ocean down below through gaps in the bridge leading to the small island on which the Godaido is located is a means of bracing visitors for the pilgrimage.
Matsushima is also famous as a moon-viewing spot, and the Date family built the Kanrantei teahouse for this purpose. As you partake of powdered green tea here, the depth of history sinks in amid an ambience and scenery that have not changed in four centuries.
Matsushima has many other attractions that cannot be taken up here, including scenery that has been praised by people for ages, historical buildings, and museums. Coupled with the beauty of nature mutating through the four seasons, these attractions are sure to more than satisfy visitors.
| | | |
| --- | --- | --- |
| | | |
| Inside the glittering Kanrantei teahouse | | The Godaido at night |
Matsushima has many other attractions that cannot be taken up here, including scenery that has been praised by people for ages, historical buildings, and museums. Coupled with the beauty of nature mutating through the four seasons, these attractions are sure to more than satisfy visitors.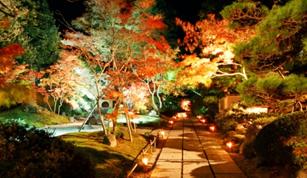 Entsuin is illuminated for a month from the end of October.
Matsushima Tourist Association
http://www.matsushima-kanko.com/en/index.html
Cooperation: Matsushima Town
Photos: Hotel Matsushima Taikanso; Tourism Division, Miyagi Prefectural Government




Hidehira-nuri




Mr. Yuya Sasaki
Master of Ootiya, a store specializing in the traditional craft of Hidehira-nuri lacquer ware


Mr. Yuya Sasaki is the fourth-generation master of Ootiya, a store in Hiraizumi specializing in Hidehira-nuri, a lacquer-ware technique said to have connections with the Oshu Fujiwara family, a warrior clan that prospered in the northeastern part of Japan during the Heian period (794-1185). While utilizing traditional methods, Mr. Sasaki, with his own sensibilities and richly creative mind, also produces modern lacquer ware that blends easily into the present-day lifestyle. Mr. Sasaki shared his thoughts about Hidehira-nuri with us.
■Please tell us about the history of Hidehira-nuri.
Old bowls of Hidehira-nuri were made around the sixteenth century, and local people came to call bowls with the patterns and designs of that time "Hidehira bowls." Regarding the culture of lacquer craft in this area, as shown by the magnificent Konjikido [Golden Hall] at Chusonji temple, which is decorated with lacquer, gold, mother-of-pearl, and so on, a high level of lacquer technology already existed. In addition, since various artifacts of that time have been excavated, such as brushes used to paint lacquer and paper used for filtering lacquer, there is a theory that the roots of Hidehira-nuri go back to the time when the third-generation head of the Oshu Fujiwara family, Hidehira [1096-1187], summoned lacquer craftsmen from Kyoto and had them make bowls and other things. Unfortunately, none of the old Hidehira bowls that have been discovered so far were made in Hidehira's time. Still, the lacquer craft has continued, and that style of bowl, the Hidehira bowl, is preserved and made by craftsmen even today.


Hidehira bowls


■How did you end up following this path?
Well, it wasn't exactly a case of aspiring to follow this path from my childhood days. Thinking that I might take over the family business sometime in the future, I studied management at university. I really did think it was something that might happen a long way down the road. But then in the summer of my fourth year at university, my father was taken ill and went into hospital. I had decided on a job with an ordinary company in Tokyo, but suddenly I was forced to think again about my future course. A big turning point came when a teacher at my university said to me, "If you don't take over, your family business will be stopped. Maybe you should think carefully about the meaning of that." I wondered which course would have true value for me---the path of working at an ordinary company, which would mean my future life was pretty much predictable, or the path of struggling anxiously to move forward but full of passion? I am the eldest of three sons. My younger brothers had absolutely no interest in continuing the family business, so I thought deeply about the meaning of preserving the tradition. At first there were all kinds of difficulties, but now I am glad I chose this course.

■What do you think was good about becoming a craftsman?
From my younger days I really liked drawing and art, and I remember making quite complicated things for my summer holiday homework! [Laughs] It's wonderful being able to do something you like as your job. And I'm not the type of person who likes being tightly bound by others either, so my present position suits me much better than being a company employee. My grandfather, uncle, and father all loved craftsmanship, and I often feel that the same blood is flowing inside me as well. My father once said to me, "You can't have only management skills. When you want to make something, you have to be able to make it yourself, otherwise the craftsmen won't follow you." I didn't know anything, but I began with tasks like writing my name on straps and so on, asking the craftsmen for advice as I went. Eight years later, I now work not only on the repair and reproduction of old bowls but also, utilizing the spinning technology for making bowls, on the design and production of modern, stylish lacquer ware based on traditional techniques.


Modern and stylish goblets (Okina series)
■What are the special features and attractions of Hidehira-nuri?
Various places around Japan produce lacquer ware, but apart from special types like Wajima-nuri, with its maki-e [sprinkled picture] decorations, and Tsugaru-nuri, which is distinguished by its burnished finishing, there is surprisingly little distinctive lacquer ware. Most of it is quite plain with almost no pattern at all. The special feature of Hidehira-nuri is its original designs, such as cloud patterns colored by gold, with seasonal flowers and fruit drawn between them and diamond-shaped gold leaf added. You can tell straightaway that a piece of lacquer ware decorated with pictures and gold leaf, giving a sense of both gorgeousness and elegance, is Hidehira-nuri. I think the attraction lies in that strikingly beautiful quality.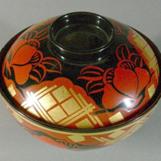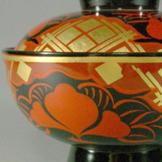 These bowls for simmered food are characterized by large, vividly drawn camellia.
■What is the most difficult process?
Broadly speaking, there are three processes: applying the undercoat, painting the lacquer, and drawing the picture. When we have many orders, we do ask other workshops to help us out, but basically I and one more craftsman, just the two of us, do everything in our own workshop on the premises. The most difficult process is the final coating. We pay great attention to painting neatly and adjusting the lacquer so that no dust or brush hairs become attached. When you are concentrating on the task in the workshop, you become aware of the dust floating in the air and falling. We try as hard as possible not to stir up the dust.


| | |
| --- | --- |
| | Applying gold leaf |

■What do you care about especially in your works?
The most important thing is to give form to the customer's desired image. I discuss several times with a customer about what pattern, shape, and material they want me to use before making a decision. Some items take from several months to a year to finish. But then the delight on the customer's face when I hand over the original piece makes it all worthwhile. The process of giving form to customers' requests through interchange with them is most enjoyable.
Tamakobako: A collaboration between Hidehira-nuri and Naruko kokeshi dolls

Obi clasps in a variety of colors

Hidehira cell-phone straps with colored lacquer
■Tell us about your activities and goals from now on.
When they think of traditional Hidehira-nuri, many people have an image of lacquer ware that is gorgeous to look at. Hiraizumi has been designated as a UNESCO World Heritage site, and the area is attracting attention from around the world. So I think now is the time to raise awareness of Hidehira-nuri and, while preserving the traditional technique, make craft works that have new ideas and playfulness and can be accepted in present-day life. And I want to build a company that can compete not only in Japan but also overseas and makes people say, "That workshop's products are really different!"

Profile of Mr. Yuya Sasaki
Fourth-generation master of Ootiya. Born in Hadano, Kanagawa Prefecture, in 1978. At 12 years of age, moved with his family to Mizusawa in Iwate Prefecture, where he lived until graduating senior high school. Graduated from the Faculty of International Political Science and Economics of Nishogakusha University. Currently engaged in the production of lacquer ware suitable for the present-day lifestyle, incorporating new materials, techniques, and ideas but still based on traditional methods and shapes.





Ootiya (a store specializing in the traditional craft of Hidehira-nuri lacquer ware)



Address: 1-7 Hiraizumi Koromonoseki, Hiraizumi-cho, Nishiiwai-gun, Iwate Prefecture 029-4102



Tel.: 0191-46-2306
Fax: 0191-46-2315
Closed: Wednesdays
http://www.ootiya.com/ (Japanese)