Solving the Problems of the Depletion of Marine Resources and Food Supplies
The World's Only !
Complete Farm-Raising Cycle for Bluefin Tuna
at Kinki University
"One medium fatty tuna, please!" Until when will we be able to eat delicious tuna whenever we like?
Controls on the fishing of bluefin tuna have been tightened around the world in recent years. For example, at the 15th meeting of the Conference of the Parties to the Washington Convention (the Convention on International Trade in Endangered Species of Wild Fauna and Flora), held in Doha, Qatar, in March 2010, exactly one year ago, a total ban on international trade in Atlantic and Mediterranean bluefin tuna was discussed.
In recent years, because of their delicious taste, bluefin tuna have come to be eaten a lot in Europe, the United States, and Asia; they are especially popular among the wealthy in China. But the Japanese remain the principal consumers, accounting for about 80% of the total.
In this article, IHCSA Cafe introduces the research results and future activities of the Fisheries Laboratory of Kinki University, which has been continuing research on aquaculture methods for a shift "from fishing to farming" based on the theme of achieving a balance between the increased production of marine resources and the natural environment.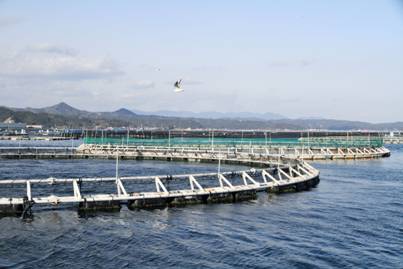 Japanese began to eat the fatty meat of tuna only recently
In terms of the history of tuna eating in Japan, the excavation of tuna bones from shell mounds dating from the Jomon period (ca 8000?300 BC) suggests that tuna were consumed a very long time ago.
In the Edo period (1603?1868) tuna fishing off the coasts of Boso and Miura Peninsulas was lively. The fish would rot before arrival in Edo (present-day Tokyo), so people would preserve it by cutting mainly the red meat into thin slices and soaking them in soy sauce before eating. At that time the Japanese preferred simple tastes, like bonito and sardines, and apparently they did not like the fatty part of tuna very much.
It was in the 1950s and 1960s, during the period of high economic growth in Japan, that refrigeration technology advanced. Moreover, under the influence of rich Western-style cooking using butter and so on and other factors, tastes changed, and the Japanese began to relish the oily part of tuna meat.
Tighter controls on bluefin tuna fishing
Did you know that there are two types of tuna aquaculture---farming using wild stock and complete-cycle farming? Wild stock farming involves catching wild young tuna in the sea and feeding them in cages until they grow into adults. In complete-cycle farming, adults raised from artificial hatching produce eggs, and the artificially hatched larvae grow into fry, younglings, and adults, which again produce eggs to repeat the cycle (hence the term "complete-cycle farming").
The difference between wild stock farming and complete-cycle farming is not very well understood generally, because the Japan Agricultural Standards allow the former to be labeled as "farmed" (in other words, completely farm-raised).
The problem with wild stock farming is that although not many adult fish are caught, a lot of young fish are harvested instead, so the result is that the total number of tuna is declining.
In addition, at the 7th Regular Session of the Western and Central Pacific Fisheries Commission (WCPFC) held in Honolulu in December 2010, it was decided that targeted bluefin tuna catches must not be greater than the 2002?4 level and that the catch of young fish must be lower than the 2002?4 level. Controls on bluefin tuna fishing have been tightening worldwide in recent years.
Building cages in the sea
In response to this situation, the activities of the Fishing Laboratory of Kinki University, which has succeeded in developing the world's only complete farm-raising cycle for bluefin tuna, are attracting attention.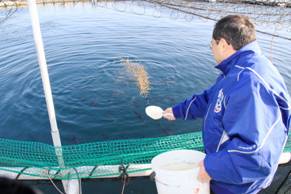 After World War II, in an age when there was only deep-sea fishing, Koichi Seko, the first president of Kinki University, had the idea of floating cages in the sea. This was the beginning of aquaculture. Success was achieved in the cultivation of young yellowtail and such high-class fish as red sea bream and greater amberjack.
The key to this successful cultivation was the method of small cage farming with fry developed by Teruo Harada, the second director of the Kinki University Fisheries Laboratory. This method, which involves raising fry in net cages placed in the sea, is now the mainstream in aquaculture around the world.
In 1970, under commission from the Fisheries Agency, the Kinki University Fisheries Laboratory began research on tuna farming. After three years the Fisheries Agency pulled out of the project, judging that tuna farming would be too difficult, but Kinki University carried on the research at its own expense, selling farm-raised young yellowtail, greater amberjack, and other fish in the market and using the proceeds to cover part of the research expenses.
These modest efforts bore fruit. In 2002 the Kinki University Fisheries Laboratory succeeded in the complete farm cultivation of bluefin tuna for the first time in the world, and in 2004 it accomplished the world's first shipment of completely farm-raised bluefin tuna to the market.
What was it that led to this success? "Teamwork," answered Dr. Osamu Murata, the fourth director of the Fisheries Laboratory Headquarters (Shirahama Experiment Station). "Everyone involved in this research had the same idea and came together with a determination to produce results. And every day we are modestly engaged in farming and observation. We are fish farmers---just like shepherds!" The twinkle in Dr. Murata's eyes reflected the confidence of a researcher doggedly absorbed in his studies.
Developing feed that does not use marine resources
The Oshima Experiment Station, where the complete farm raising of bluefin tuna is being conducted, was opened in 1970 in the picturesque town of Kushimoto Oshima, which is situated on the southernmost tip of Honshu, about a 90-minute drive from the Fishing Laboratory's headquarters. Here bluefin tuna are raised in 10 cages, each with a diameter of 30 m and divided by age.
Dr. Yoshifumi Sawada, the head of the Oshima Experiment Station, showed us the cages of bluefin tuna. In the first cage that we were shown, about 600 young fish aged around six months after artificial hatching, measuring about 30 cm in length and weighing about 2 kg, were eagerly devouring the compound fertilizer feed developed by the station. In another cage, 30 adult fish aged nine years, measuring about 2 m in length and weighing around 170?290 kg, were swimming around elegantly. It was very impressive.
The bluefin tuna raised completely in these cages are sold on the market under the registered trademark of "Kindai (Kinki University) tuna."
When they become adult, bluefin tuna are given such feed as mackerel and sardines. In order to increase their weight by 1 kg, they require about 15 kg of fish feed. Such feed is also a precious marine resource, and harvesting too much would destroy the marine ecosystem balance. Therefore, research is being conducted on the development of feed using vegetable protein, such as corn, instead of fish.
A lot of hope is being placed in the development of new bluefin tuna farm-raising techniques by the Kinki University Fishing Laboratory.


・・・・・・・・・・・・・・・・・・・・・・・・・・・・・・・・・・・・・・・・・・・
Kinki University
Fisheries Laboratory Headquarters (Shirahama Experiment Station)
3153 Shirahama, Nishimuro-gun, Wakayama Prefecture 649-2211
Tel.: 0739-42-2625
E-mail: suikensh@kindaisuiken.jp


Oshima Experiment Station
1790-4 Kushimoto Oshima, Higashimuro-gun, Wakayama Prefecture 649-3633
Tel.: 0735-65-0501
E-mail: suikenoh@za.ztv.ne.jp


http://www.flku.jp/english/index.html (English)
Photos: Fumio Kimiwada



Highly Ranked Hotels
on the TripAdvisor "Word-of-Mouth" Website
IHCSA Cafe takes a look at two highly ranked hotels introduced on the TripAdvisor website, which provides diverse travel-related information in 19 languages and, thanks to the wealth of user feedback available, boasts a phenomenal number of hits worldwide.
Comfortable Stay in Room with Kitchenette: Citadines Shinjuku
A new type of apartment-style hotel
Citadines Shinjuku, an apartment-style hotel that outstrips many more well-known and expensive hotels in the ranking of best hotels in Japan, is a lodging facility that combines the convenience of a hotel and the privacy of an apartment. Especially popular among mainly middle-class travelers, both Japanese and foreign, it opened two years ago and is situated within walking distance of Shinjuku's shopping and entertainment district. This hotel chain has facilities in the main cities of the Asia-Pacific region, Europe, and the Persian Gulf region, and it is especially well-known in Europe. Foreigners account for around 70% of the guests at Citadines Shinjuku, and in 2010 it came seventh in TripAdvisor's ranking of popular hotels among foreign travelers in Japan. In the Japanese "Travelers' Choice 2011" ranking, which includes popularity among the Japanese, it comes eleventh.
Relaxing at-home comfort
The distinguishing feature of Citadines Shinjuku is that all of its spacious rooms, which are available at reasonable rates despite the central location, are equipped with a kitchenette. In addition to a drier, iron, electronic safe, LAN cable, and so on, the basic cooking utensils and tableware are provided, including an IH stove, a microwave oven, a toaster, and an electric pot. There are many convenience stores and food shops in the neighborhood, so guests can easily buy things and cook for themselves. What is more, there is plenty of storage space in the rooms and a coin laundry on the premises, so Citadines Shinjuku attracts long-stay guests as well.
Security is thorough, too. The front desk is manned 24 hours a day, and room keys are necessary to use the elevator and to enter the hotel late at night, so women can stay here without anxiety even if they are traveling alone. Other services include multi-language cable television and a DVD player in each room and a fitness gym open 24 hours a day.
Importance of Japanese hospitality
All of the staff at Citadines Shinjuku are Japanese-English bilingual, and among them only people with a high level of English proficiency and capable of handling all-around business are appointed as front-desk staff, who take care of everything concerning a guest's stay. All the staff members are friendly, try to create a homely atmosphere, and have a concierge-like readiness to answer any inquiry. They always take the initiative in approaching guests, who lavish much praise on the staff for "doing a good job."
As well as a thorough response to requests concerning facilities and services within the hotel, Citadines Shinjuku also provides information at the front desk concerning not only the immediate vicinity but also popular tourist spots that guests often inquire about, such as Kamakura and Hakone. The information is carefully arranged so that it can be given to guests quickly upon request. In addition, the hotel apparently gives handwritten memos to foreign guests who are not accustomed to getting around in Japan in case they get lost.
Since many guests stay for several nights, their requests are wide-ranging. Among them, the hotel manager, Ms. Yuka Yamane, feels that Asian guests in particular "have much expectancy of Japanese service." Citadines Shinjuku is operated Western style, but Ms. Yamane says, "We educate our staff to approach foreign guests with Japanese-style politeness and cordiality." No doubt this impeccable hospitality is the reason why so many people recommend this hotel.
Citadines Shinjuku
1-28-13 Shinjuku, Shinjuku-ku, Tokyo 160-0022
TEL: 03-5379-7208 FAX: 03-5379-7209
URL: http://www2.citadines.com/en/japan/tokyo/shinjuku.html ( English)
ACCESS: 5-min. walk from Shinjuku-gyoenmae Station on the Tokyo Metro Marunouchi Line;
7-min. walk from Shinjuku-sanchome Station on the Toei Shinjuku Line and the Tokyo Metro Fukutoshin Line;
15-min. walk from Shinjuku Station
SISTER HOTEL: Citadines Karasuma-Gojo Kyoto
Photos: Courtesy of Citadines Shinjuku
| | |
| --- | --- |
| Effect of "Word-of-Mouth" Info on the Internet | |
Following the diffusion of the Internet and advance of technology, it has become easier for general users to transmit information. As a result, the image of brands, products and services is transforming into something that spreads in real time, created spontaneously by users who have experienced them. For users who are considering the options, such feedback becomes a reference for making a decision. (People tend to choose things about which feedback is available over things with no feedback.) And the more comments there are, the greater is the objectivity and credibility. User feedback is already establishing its position as an important source of information.
For the rankings cited in this article, please see the following URLs:
●The best hotels in Japan 2010selected by Japanese vs. foreigners
http://www.tripadvisor.jp/pages/BestHotelJapan2010J.html
●Travelers' Choice 2011?Japan
http://www.tripadvisor.com/TravelersChoice-g294232-cTop25-Japan.html
Unique Tatami Floor: Capsule Ryokan Kyoto
A style of guesthouse that did not exist previously in Japan
The Capsule Ryokan Kyoto, which completely overturns the conventional image of "capsule hotels," opened a year ago in Kyoto, a city with 17 World Heritage sites. Quickly attracting the attention of foreign travelers, especially backpackers, it placed first in 2010 in a ranking of the most popular ryokan among foreign travelers in Japan.
The founder, Mr. Keiji Shimizu, traveled around the world and stayed at many cheap yet comfortable guesthouses in his student days, and he thought it was a pity that only youth hostels were available in Japan. He developed a strong desire to provide foreigners traveling in Japan with a cheap guesthouse that they could use more easily and comfortably. Using the savings that he had accumulated while working for a company, first of all he opened a lodging with just three rooms. Mr. Shimizu and his wife handled everything, from waiting on guests and cleaning to distributing leaflets in front of the railway station. Their efforts paid off, and now they operate four facilities.
Comfort created in a confined space: Tatami Capsule
There are potentially many foreigners who want to experience staying in a capsule hotel, a uniquely Japanese type of lodging, but in practice several problems arise. In particular, Japanese male salaried workers who miss the last train and flock to the capsule hotels tend to be very noisy, so foreigners cannot get a good night's rest. And in many ways cheap ryokan are not very suitable for foreigners. Therefore, Mr. Shimizu had the idea of creating an original type of lodging that combined the two and enabled foreigners to experience the atmosphere of a traditional Japanese ryokan safely and comfortably.
At first sight the capsules appear to be rather cramped. But when you go inside, actually they seem very comfortable indeed. Although it is for common use, guests can use the bathroom, equipped with a bathtub, free of charge. And by the side there is a shelf with a key that is large enough to store a suitcase, so guests can easily access their luggage.
Compact room for two: Ryokan-style en suite room
For twosomes, there are 10 square meter Japanese style rooms equipped with such facilities as a shower cubicle, toilet, and sink. Guests lay their own futons. Specially processed mattresses are used so that foreigners who are not accustomed to futons can sleep comfortably, and there is storage space under the floor. Many foreigners are amazed by the latest high-pressure shower cubicle and the fully automatic toilet. These rooms are a combination of tradition and Japan's state-of-the-art technology.
A ryokan to write about
In order to enable guests to enjoy a pleasant and efficient stay in Kyoto, Capsule Ryokan Kyoto also has compiled a file of more than 50 pages of steadily accumulated information on sightseeing, restaurants, and so on, with the ryokan as a starting point. In addition, feedback includes many favorable comments about the positive attitude of the staff, who try hard to eliminate the inconveniences that come with the cheap rates. Capsule Ryokan Kyoto is also praised for being clean, functional, and comfortable. There are also many posts about the ryokan on the YouTube video site, and the website of the British Broadcasting Corporation (BBC) introduces it as well.
Capsule Ryokan Kyoto does not call on guests to write comments about it, but nevertheless most of the feedback is positive. Mr. Shimizu remarks, "First of all, the concept itself is original. Maybe that is the reason why guests want to tell the world that they stayed at such a place."
Capsule Ryokan Kyoto
204 Tsuchihashi-cho, Shimogyo-ku, Kyoto, Kyoto Prefecture 600-8226
TEL / FAX: 075-344-1510
URL: http://www.capsule-ryokan-kyoto.com
ACCESS: 8-min. walk from Kyoto Station
SISTER HOTEL:
・ Tour Club: Forerunner of international-level hostels in Japan
・ Budget Inn: A ryokan for backpackers, including families
・ The Furnished Apartment: Low-price apartments in a central location for long-stay guests
Photos: Fumio Kimiwada

Traditional Dyeing Technique Boasts Bold Colors
Mr. Kosuke Suzuki of Suzusen
Specializing in Dyeing Technique for Maiwai Festive Kimono


The fishing industry has long flourished along the coast of the Boso Peninsula in Chiba Prefecture. During the Edo period (1603?1868) the culture of maiwai (festive kimonos to celebrate a good catch) developed among the fishermen who lived by the sea in this area. In this article, IHCSA Cafe talks with Mr. Kosuke Suzuki, the third-generation owner of Suzusen, who inherited the tradition and technique of maiwai dyeing from his grandfather's generation.


◆ Please tell us about the history of maiwai.
Originally maiwai meant just celebrating a good catch, but over time it came to mean the kimonos that ship owners would distribute to fishermen for the celebration of an especially good catch. Actually it was not kimonos but cloth that was distributed, and the fishermen's wives used to make this cloth into long or short kimonos. Then everyone would wear the same kimono for the celebration.
The Boso Peninsula in Chiba Prefecture is said to have been the birthplace of maiwai. From there the custom spread along the Pacific coast from Aomori to Shizuoka. According to literature, there seems to already have been a custom of making maiwai around 1800, but then in the 1950s and 1960s the practice of distributing and wearing maiwai at times of a good catch died out. As times changed, the reward for a good catch shifted to more practical items, such as jumpers, and cash bonuses.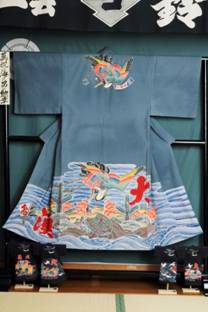 ◆ What made you follow this path as your career?
I grew up watching my grandfather and father engaged in dyeing, but I was good at mathematics and physics and went on to study chemistry at university. For a time I thought of becoming a teacher. However, I liked the masculine flamboyance of the maiwai, like the Edo-period firefighters' costumes, and gradually I came to want to do the dyeing myself. So after graduating from university, I decided to devote myself to continuing the family business.
| | |
| --- | --- |
| | |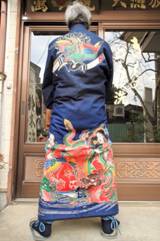 ◆ Please tell us about the attractions of maiwai.
Usually the patterns of the maiwai are drawn on the back and lower part. The family crest, ship's insignia, and ship's name are put on the back, and such things as auspicious motifs, like a crane and tortoise, pine tree, or treasure boat, or the fish that was caught in abundance are drawn on the bottom. In coloring, you mix squeezed soybean juice into five primary colors and then apply each color using a paint brush. A three-dimensional sense is created by shading off the borders between the colors to add gradation. When the fishermen wore the maiwai dyed in this way, the patterns drawn on the back and lower part stood out strongly, so they were able to boast to people around them of their bountiful catch. I think this masculine splendor is the attraction of maiwai.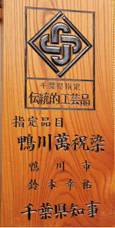 ◆ How has maiwai dyeing been preserved since the Edo period?
My grandfather trained in a dyeing factory that had continued since the Edo period and then founded the Suzuki Somemonoten in 1925. Almost all of the old materials had been lost at the time of the Great Kanto Earthquake in 1923, but the dyeing technique was unfailingly handed down from my grandfather to my father and then to me. Unfortunately there is no artisan to inherit the maiwai dyeing technique as the fourth-generation owner of Suzusen, but we are making efforts to transmit the method to the next generation. Since about 10 years ago, for example, we have been holding dyeing workshops for local students and others in our studio and museum.


◆ How long does it take to master the technique?
There are 12 processes involved in preparing a single cloth, such as compiling the pattern on paper, coloring, and ground dyeing, so it takes around 10 years before you are able to do the whole procedure. The demand for maiwai is declining, but when I see people happily wearing kimono that I have made or carefully displaying kimonos that I have helped repair or reproduce in their museums or somewhere, I feel glad that I chose to become a craftsman.
◆ Please tell us about your activities and objectives from now on.
So far I have only been involved in making long or short kimonos, but now I am also applying the maiwai technique for making more familiar items, such as aloha shirts, hats, and bags. In the future I would like to see these products become popular among foreigners.


Profile of Mr. Kosuke Suzuki
Born in Kamogawa, Chiba Prefecture, in 1954. After graduating from the Faculty of Science and Technology at the Tokyo University of Science, became the third-generation owner of the family business specializing in maiwai dyeing. In 1997 maiwai became a designed traditional craft product of Chiba Prefecture. His hobby is acquiring qualifications (level 1 coloring license, cleaning license, hazardous materials officer license, boiler engineer license, etc.).
Suzusen maiwai dyeing shop
http://www.awa.or.jp/home/suzusen/ (Japanese only)


Photos: Fumio Kimiwada